The Madhvani Group of Companies
The Madhvani Group is one of the largest diversified private-sector groups in East Africa, employing over 10,000 people. Starting in Uganda in 1914, the Group has developed into a widely-diversified conglomerate with a geographical spread into various African countries, the Middle East, India and North America. The Group's current turnover in Uganda exceeds USD 500 million. The Group's assets in Uganda are valued in excess of USD 1 billion, with several units undergoing major expansion.
The Group is the largest private-sector investor in industry in Uganda, with a substantial presence in the following:
agriculture and agro-processing,


sugar-cane
tea
floriculture
sugar,
sweets & confectioneries,
packaged tea,
soap,
packaging (glass, corrugated cartons, crown corks, etc.)
matches,
steel (rolling, wire-drawing, etc.)
In the growing services sector of Uganda, the Madhvani Group has a presence in :
hotels & tourism
insurance
information technology
media & communications
construction
distribution of industrial products and consumer durables
The Group has an outstanding track record in turning-around dormant companies, and has achieved a market leadership position in most of the sectors in which it operates.
The flagship of the group is Kakira Sugar Works, which was formed in 1985 to take over the old assets of Madhvani Sugar Works Ltd in Eastern Uganda.- a factory that was no longer operational and a nucleus estate that had reverted to bush. Under the Group's management, the Kakira sugar complex has been fully rehabilitated with original financing from World Bank, African Development Bank and Uganda Development Bank.
The sugar factory currently operates at a crushing capacity of 4,000 tons cane per day (TCD) during a 10.5 month crushing season. Sugarcane is cultivated on the company's own estate of over 9,700 ha supplemented by cane from over 4,500 outgrower farmers grown on 17,000 ha. A confectionery factory produces a variety of sweets, toffees, etc. This season, the Kakira will crush 1.2 million tons of cane to produce over 100,000 tons of sugar, maintaining its position of Uganda's largest sugar producer.
This Company employs over 7,500 people and has been the catalyst for socio-economic development of the rural area surrounding the mill, providing the means of livelihood to over 75,000 people in the South Busoga region.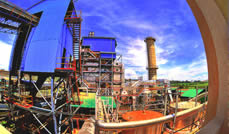 The Group is now completing an extensive phased expansion to enhance Kakira's crushing capacity to over 5,500 TCD and to produce more than 150,000 tons of sugar each year. The project includes expanding the co-generation plant to produce a total of 22 MW of electric power of which 12 MW is for sale to the national grid.
The Group owns and operates the only sugar complex in Rwanda — Kabuye Sugar Works.
In Uganda, the Group owns two tea estates (over 500 ha) with a tea factory, and exports over 1,000,000 kgs of tea each year.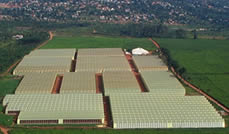 The Group ventured into floriculture with Kajjansi Roses — which has 9 ha under steel greenhouses, exporting over 19 million rose stems per year. This unit has now established a joint-venture with Flower Direct of the Netherlands - Chrysanthemums Uganda — which will grow 12 million stems for export to Europe.
In the packaging sector, the Group has an associated company Kioo Ltd. in Dar-es-salaam which has the largest container-glass plant in East Africa, and has joint ventures in Uganda to produce crown-corks (Coleus Crowns) and cardboard cartons (East African Packaging Solutions). Coleus Packaging Pty. is a subsidiary of South African Breweries and the largest crown producer in South Africa. The JV partner for cartons is Graphics Systems U Ltd, which is the leading printer in the country.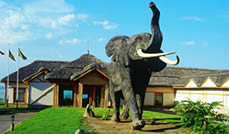 Another focus area for the Group is tourism with activities centered in the main National Parks of Uganda. The Madhvani Group operates the two leading safari lodges in the country - Mweya Safari Lodge in Queen Elizabeth National Park and Paraa Safari Lodge in Murchison Falls National Park. The Group is now rehabilitating a third lodge, Chobe Safari Lodge, also in MFNP, to create another stunning destination on the Nile River for tourists to visit. The Group is planning a beach resort in Zanzibar and is looking for opportunities for tourism investments in Kenya, Tanzania, Rwanda and India.
In the services sector, the Group has interests in :
Insurance - through East African Underwriters, which covers all commercial risks and medical needs, as well as Liberty Life Assurance Uganda, which is a joint-venture with Liberty Life of South Africa (which is owned by the Standard Bank Group).
Software - Software Applications Uganda is the channel partner for Systems Union and Sun Systems and provides business solutions for accounting, human resources, etc.
Construction - Excel Construction undertakes all types of commercial and industrial building projects as well as roads in Uganda and is now establishing activities in Southern Sudan.
In keeping with its diversification strategy, the Madhvani Group is now examining options for joint-ventures in the high-growth high-tech sectors of telecommunications and related services.
This is in addition to other project proposals such as a new sugar complex in North Uganda and bio-fuels (ethanol from molasses; bio-fuel from bagasse pyrolysis; bio-diesel from jatropha, etc.). Attention is always given to safeguarding the environment.
Through its charitable Foundation and its corporate social responsibility programme, the Group also contributes to the promotion of scientific and technical education and health care for Ugandans.
Considering the Madhvani Group's long-established presence in Uganda with over 75 years' experience of business in diverse fields in East Africa and core values of integrity and long-term commitment, the Group has a vision of continuing growth and contributing to prosperity in this region.